FortDix New Jersey, Basic Training 1961. The barracks were WWII. vintage . They were drafty and cold and were heated with coal furnaces.  The patch is the 1st Army patch. This patch was worn by most Army personnel assigned to duty in the North Eastern States.
Fort Drum, or Camp Drum as it was also called was ok in the late spring and summer, but sure was cold in the winter.
The 155 mm Howitzer took an 11 man crew. It could fire 95 lb. projectiles a distance of several miles. We towed the weapon with a Deuce and a half with the gun crew riding in the back. The Breach Block came apart like a Chinese puzzle using an Allen Wrench. Every crew member had a specific job. Our particular Battery was B Battery. Our Battery Commander was Captain Sampson.
If you could operate the Wrecker you could operate anything.  Guys avoided getting involved with it,  if they could, because you were probably going to get real dirty and it would certainly mess up the shine on your boots.
Taukkunen Barracks,  Worms, Germany.   It got cold here too.
This had been previously known as Prinz Karl Barracks. It was built in 1836 as a Prussian Army Barracks and had housed  Soldiers of Otto Von Bismark's Army  It also served as housing for German Soldiers in WWI. and WWII.  My Company was housed in a building to the left of the photo and is not seen in the picture. There was a beer drinking establishment out the main gate and across the Strasse. It was called Lilli's and was well patronized by the GI's stationed there.
We were shipped to Germany on a Troop Ship, about the same as the one pictured. We embarked from the Brooklyn Navy Yard and arrived in Bremerhaven, Germany about 10 days later. There wasn't much to do except try to avoid unpleasant details like KP and whatever else the NCO's could think up for you to keep busy.  Mostly the guys played Poker or shot Craps in the stairwells. A lot of money changed hands in those 10 days.  When the ocean got rough a lot of guys spent their time hanging over the Fan Tail throwing up.  I never did get sea sick.  I returned stateside on a similar ship.
Seventh Army Patch — This patch was one of the patches worn by the U.S. Army in Germany.  Both units that I was with, the 38th Transportation Bn. in Worms and the 35th QM Bn. in Ludwigsburg, wore this shoulder patch.
My Buick had a standard transmission rather than the old unreliable Dynaflow transmission. The Dynaflow always leaked transmission fluid because of a faulty seal.  The part itself cost about fifty cents but you had to drop the entire transmission to replace it.  Everybody I knew who ever owned one hated those old Dynaflows.   I bought a 1953 Buick while stationed at Fort Dix.  The car not only served as transportation but as an extra locker where I stored things that I wasn't supposed to have in the Barracks. The car was a real life saver on inspection days.
Unit Crest of the 38th Transportation Battalion
My Company was the 594th Trans. Co and we shared the barracks with the 34th, one of several companies of the 38th Trans Bn.[/caption
In May of 1965 I was transferred to the 35th QM Bn. in Ludwigsburg, Germany. I spent the rest of my Active Duty at the 35th until I was Discharged in 1966.
HISTORY OF THE 35TH QUARTERMASTER BATTALION
The Headquarters and Headquarters Detachment, 35th Quartermaster Battalion, was activated on 15 March 1944 at Fort Devens, Massachusetts as the 216th Quartermaster Battalion. It was constituted 8 March 1944 in the Army of the United States. The Battalion served throughout World War II in the Far East where it was awarded a campaign streamer for the Ryukyus Campaign. The organization was inactivated on 25 July 1949 at Seoul, Korea.
Redesignated at Headquarters and Headquarters Detachment, 35th Quartermaster Battalion and allocated to the Regular Army on 7 March 1951, the organization was reactivated on 1 June 1951 at Roth, Germany.
On 1951 the Battalion was transferred from Roth to Coffey Barracks, Ludwigsburg, Germany, and served continuously on active duty in Germany with the 510th Quartermaster Company, 531st Quartermaster Company, 568th Quartermaster Company and the 7th US Army Quartermaster Company (DS 3762) as subordinate units.
On 25 September 1961 the Battalion was reorganized as a Direct Support (DS) Battalion with Company A and Company B, Direct Support. The 510th, 531st, 568th and the 3762 QM Companies were deactivated.
The 109th Transportation Company was activated on 4 June 1951, at Hammelburg, Germany.
Redesignated as Light Truck Company on 5 June 1953 it was reorganized as Medium Truck, Petroleum on 20 October 1953.
The unit moved from Hammelburg to Krabbenloch Kaserne in December 1951, to Flak Kaserne in March 1955 and then to Coffey Barracks in November 1961. The 109th served well during World War II earning for itself a Meritorious Unit Citation Streamer in the European Theater and 8 Campaign Silver Bands.
The peacetime mission of the 35th Quartermaster Battalion is as follows:
Operate a field bakery in Ludwigsburg; three Class I Supply Points, one in Ludwigsburg, one in Karlsruhe and one in Heilbronn; an ECS 702 Troop Issue Account in Karlsruhe, two Self Service Stores at Ludwigsburg and Karlsruhe; Supply II and IV Supply Expendables from a Self Service Supply Center; post, carry and station property through an ECP-256, all located in Ludwigsburg; operate 5 Clothing Sales Stores, one each at Stuttgart, Goeppingen, Crailsheim, Heilbronn and Karlsruhe and a Clothing Sales Van; distribute petroleum products from two Supply Points, one each in Ludwigsburg and Karlsruhe; maintain designated Reserve Points; conduct line haul of petroleum from PDC pipeheads to Class III Supply Points of the 2nd Quartermaster Group using attached 109th Transportation Company (Med Trk)(Petrl); make local deliveries of petroleum to Quartermaster Gas Stations, mess halls, unit motor pools and other facilities. The Battalion also operates a field maintenance activity in Ludwigsburg with off-site typewriter repair in Karlsruhe and Patch Barracks; when requested, provides Laundry and Bath support and Graves Registration instruction.
Unit Crest of The 35th QM Battalion
Discharged at Ft. Hamilton N.Y. in February 1966.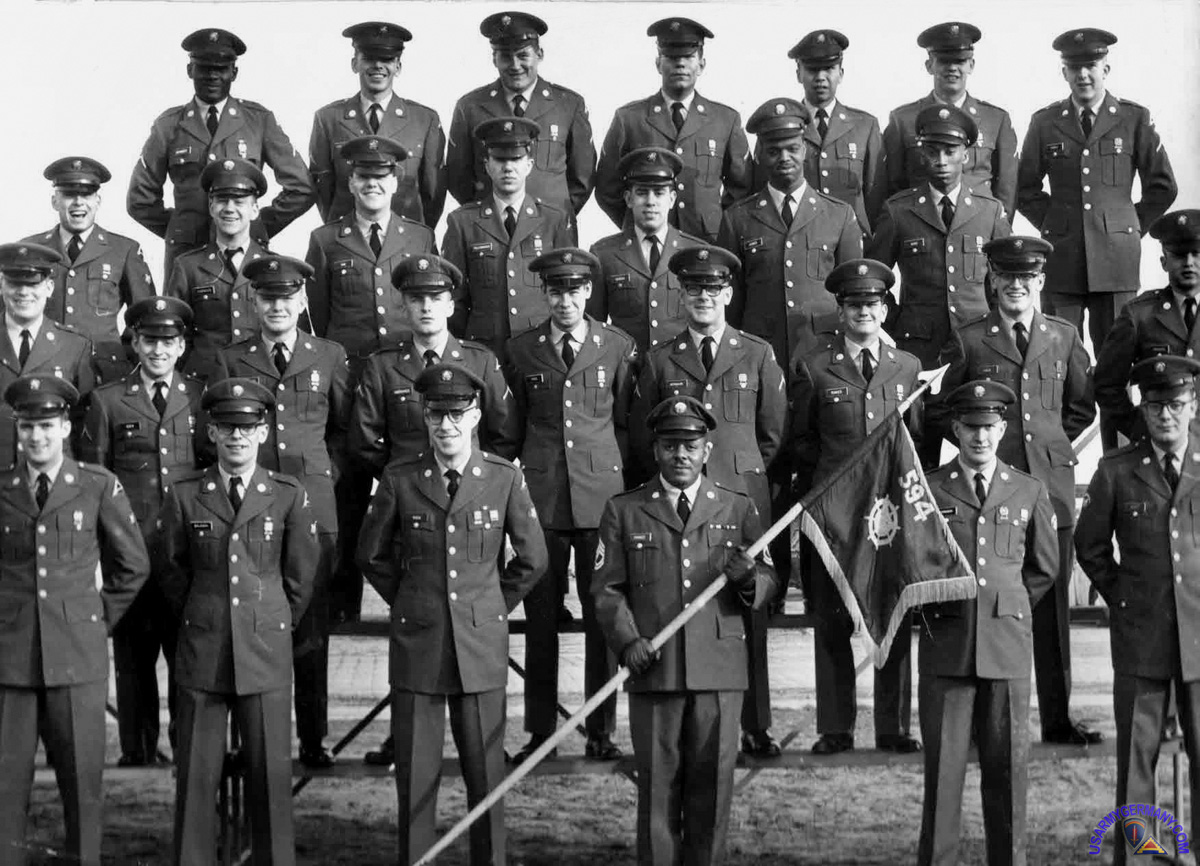 My Company was the 594th Trans Co. a part of the 38th Trans Bn.   The 594th Transportation Company (Med Trk Cargo) was a full-strength tractor-trailer outfit . The company drove M52 5 ton tractor trailers to haul supplies  providing logistical support for 7th Army units, primarily in Germany.